The purses and pouches, cases, wash bags…
I wanted to make fabric pouches in origami and volume. This led me to create surprising flat origami pouches ; and volume purses. On the way, drawstring reversible purses emerged.
Of those pouches that we slid in our bags ; from then on, my vintage kimonos start a second life with you ; with us. Purses of our daily lives, hiding secrets, used and carried all around. World trotting fabrics – Another journey – Further and fresh uses for vintage garments. These kimonos wrapped bodies, now cocoon our "all and nothing"..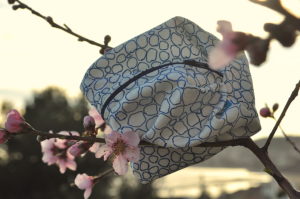 "I wanted to be a show off, keeping, as long as possible, in a pocket of my pants, the pouch containing sweets" (N. Pascault, Au jardin du passé, 1964, p.65 ds Réz. Ouest 1984)
"I don't know how that comes about, but Mr. Gambetta's frock coats always make pouches in the back"
(Gyp, Mariage civil, 1892, pp.228-229)