ACCESSORIES
MADE OF JAPANESE FABRIC
VINTAGE KIMONOS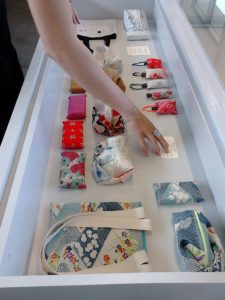 Having fallen in love with the patterns of Japanese fabrics in Kyoto, I came back from my travels with many vintage kimonos. "Vintage", meaning they had been pre-loved. With these kimonos, I started to research, explore, bring together.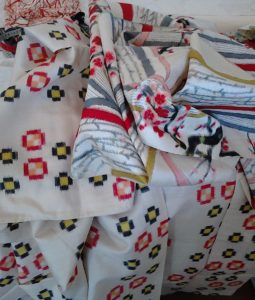 Weaving bonds.
Combinations
Counterpoints
Rhythms
Plurals
I work throughout nights.
I combine kimono designs with others – once I feel that the tone works, I get on with assembling.
Sewing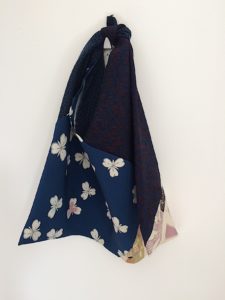 Vintage Kimonos Trio – Bag
Between November 2015 and June 2016 I made accessories : Bags, pouches, purses, pockets to hide secrets in.
I sew the right and wrong side of the fabric – revealing the wrong side. Female and male kimono fabrics create a new pattern
Various kimono scraps meet – These fragments belonged to people,
I love the idea that these kimonos have been worn and that their journey goes on.
Accepting the unexpected : a color, a drawing – making something with it, accepting any unforeseen.
For me, it is diversity that creates harmony,
Plurals – Multiples – Differences – Rejects.
Little pieces of nothing are everything.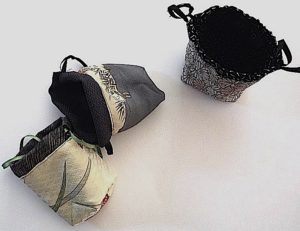 CREATION OF ACCESSORIES MADE OF JAPANESE KIMONO FABRICS
Tell the rest of the story,
Between fabrics, shades
Between symbols, drawings
Between weavers
Crosses of patterns, of materials
Unique items.
Bringing distance closer,
Weaving bonds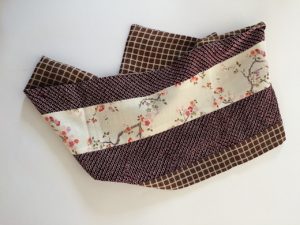 Scarf – Japanese vintage Kimono fabric – Duo
Vintage kimono silks – pouches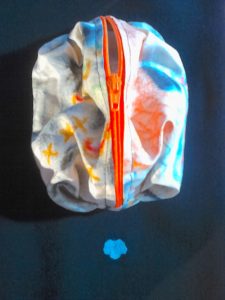 From 2017 onwards, I started marketing my accessories and in 2018, I set up as an artisan.